Rebounderz Committed Team
Tim Murphy – Chief Executive Officer
Tim Murphy is Chief Executive Officer, principal and exclusive commercial real estate broker of Rebounderz family entertainment centers. Tim joined Rebounderz in 2016 and is a seasoned franchise and restaurant executive who brings 30+ years of experience to Rebounderz. Tim has coached executives & businesses best practices from 30+ years with 120+ brands and 8,500+ locations as CEO, President, COO, CFO & Advisor with international franchise, entertainment, restaurant, food, retail, resort, theme park, service, manufacturing, development and real estate for public, private, startup and private equity companies. Tim has mentored CEOs, executives, franchises, founders, small businesses & entrepreneurs. And Tim brings strategic leadership, focused growth, operations, finance and real estate development to Rebounderz.
Tim previously worked and consulted in various roles as CEO, COO, CFO, and other senior leadership positions with companies including Applebee's, Sonny's Bar-B-Q, Jimmy Johns, Advantica Restaurants (Denny's, El Pollo Loco, Hardee's, Coco's, Carrows, etc.), Darden Restaurants (Olive Garden, formerly Red Lobster, Bahama Breeze, etc.), and Walt Disney World restaurants. Thus, Murphy understands the intricacies involved in successfully growing a large franchise company. Tim is dedicated to strategically increasing profitability, cutting costs, and growing the Rebounderz brand through strategic alignment, joint ventures, enhanced operations, superior finance, and value-added real estate development.
Additionally, Tim is an international keynote speaker, best-selling author, has a MBA in Finance, and an undergraduate degree in Accounting from the University of Central Florida. And over ten years ago, Tim set out on an "eat less, move more" journey. He lost 50 pounds by eating well and running 19 marathons, which all helped him on his path to Rebounderz, where fitness is part of the fun!
---
Joshua Coates – President
Josh Coates started his Rebounderz career in May of 2008 as part of the install crew assisting in constructing the very first Indoor Trampoline Arena in the State of Florida. On opening day, he was the Head Referee and gave the very first lesson to the guests. With his dedication to the Rebounderz brand and drive to become a key role in the business, he quickly advanced through the ranks to the corporate office where he now serves as President.
Josh is responsible for training management staff and overseeing the construction and installation of all new Rebounderz Family Entertainment Centers, and Trampoline Family Adventure Parks. Josh is credited with the creation of our renowned "Joshua Lines," the red borders placed around our trampolines to help visualize a safe jumping surface as well as implementing several other safety elements that are used every day inside the Rebounderz facilities.
Once a 22-year-old referee with an AA degree, Josh has evolved into an 8+ year veteran of the industry, truly becoming a master of Family Entertainment, Customer Service, and is committed to keeping Rebounderz thriving as the premier place for Family, Fun, and Fitness. One of his favorite quotes is:
"If you're not sitting on the edge of life's seat, you're taking up too much space."
---
Melvin Horn – Chief Operating Officer
Mel Horn oversees Rebounderz Corporate arenas, logistics, and ordering, as well as handling the operations of the corporate office. Mel also provides insight into guest / customer, and employee safety when opening a franchise.
Mel brings an extensive suite of skills to our executive team, including fire and emergency prevention training, experience in cross-country and international shipping, and business management. Prior to his current role, he served as the Compliance and Training Officer for Rebounderz.
Mel has an extensive background in martial arts that he utilizes every day to enhance his problem solving and approach to the day to day operations at Rebounderz.
---
Dexter Ryan – Compliance Officer
At Rebounderz, Dexter ensures compliance and safety across our entire system regarding ASTM standards, Rebounderz safety standards, and IATP standards. He also handles risk assessment, inspections, CPR certification, injury reporting, and insurance.
Dexter originally hails from the Philadelphia, Pennsylvania area and has been with Rebounderz since the fall of 2014. Dexter is a seasoned veteran in operations and facilities management in recreational and sports venues that range from professional sports stadiums, college campus recreation departments, and Family Entertainment Centers (including Sky Zone).
Growing up as an athlete, Dexter had already established a keen eye for officiating various intramural collegiate sports during his internship at the University of Pennsylvania. Dexter is a 2009 graduate of Cheyney University of Pennsylvania where he received his Bachelors of Science in Recreation and Leisure Management. In 2012, Dexter also received his Masters of Science in Recreation and Sports Management from Florida International University in Miami, Florida.
---
Brandon Weiss – GM of Rebounderz Newport News & Corporate Training Coordinator
Brandon Weiss got his start at Rebounderz Newport News in February of 2013. Brandon began his experience as a Party Host and quickly worked his way up to Assistant Manager when Rebounderz Newport News was taken over by the Corporate Office in October of 2013. Brandon continued to work and help improve Rebounderz Newport News where he soon became the Assistant General Manager and then the Corporate General Manager of Rebounderz Newport News. Brandon is a go-getter!
Today, Brandon oversees all Corporate Store day to day operations. Using the skills and knowledge he gained from running and operating the Rebounderz Newport News location, Brandon primarily serves as the Training Coordinator for Rebounderz Corporate. Brandon is a training specialist who implements talent development solutions. Brandon assesses staff needs, assist with the design of training materials, coordinate the delivery of training programs, and monitors the results.
In addition, Brandon is also responsible for administrative tasks relating to training technology, internal consulting about training, project management, and working with franchise locations management teams. Brandon is also a CPR Certified Trainer, and bi-lingual speaking both English and Spanish.
---
Logan LaRoche – CAD Designer & Trainer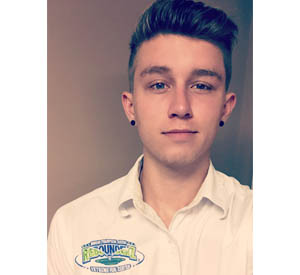 Logan LaRoche got his start in the Rebounderz Franchise early as a Referee at Rebounderz of Apopka. He was later recruited to the Corporate Team as a Corporate Trainer, however quickly took on additional responsibilities as well. As a Corporate Trainer, Logan helps develop training programs with the Training Coordinator Brandon Weiss, conducts seminars, workshops, and individual training sessions, as well as support, and mentoring new employees.
Logan also assists the CEO, Mark Gurley, in the design of our newest Rebounderz facilities and attractions. Logan creates realistic 3-D models for our new franchise owners, as well as all graphic designs for our Corporate location in Newport News, VA.
Logan is also part of the install team assisting in the construction of new attractions. Logan's versatility across several operational departments make him an essential part of the Rebounderz Team.
---
Mike Johnson – Logistics Coordinator
Mike Johnson joined Rebounderz in 2015 as an assistant to Mel Horn. Mike is now in charge of fulfilling the various warehouse duties around the Rebounderz Corporate headquarters including managing the inventory of our branded apparel and socks, loading and unloading trucks with items for future Rebounderz Franchise locations, and assisting the install crew as needed. Mike has extensive logistics experience and is essential in making sure our warehouse operates as a well-oiled machine.

---
Myrna Alcazar – Controller
Myrna Alcazar is the Controller for Rebounderz. Myrna joined the team in early 2017 and has been able to fit into her new role very quickly as an essential asset to our Finance Department. Myrna brings with her years of global finance and audit experience from family entertainment centers and manufacturing at Ripley Entertainment, CPA firms, service providers and international metal work contractors.
Myrna has a firm grasp of finance and accounting, has a BS in Accounting graduating Cum Laude.  In addition, Myrna has passed all 4-parts of the CPA exam in the State of New Jersey and is currently applying for her CPA license.
---
Laura Cianciolo – Marketing & Brand Director
Laura is a recent edition to the Rebounderz Franchise and Development team, coming to us with 10+ years of experience in the brand and marketing world.
Alyssa Schulte – Technical Coordinator
Alyssa Schulte coordinates the implementation of new software, programs, and other systems on a corporate level and at the Rebounderz franchise locations. She manages our corporate social media accounts, receives requests and completes updates for the franchisee websites, as well as proofing and editing corporate documentation.
Originally from St. Louis, Missouri, Alyssa relocated to Orlando, Florida to attend the University of Central Florida in 2011. She graduated with a Bachelor's of Arts degree in English – Technical Writing.
While in school she worked as a manager at one of the highest performing Jimmy John's in Florida. Alyssa credits the position with shaping her overall work ethic and strengthening her ability to work under intense pressure. The experience she gained working in a strict franchise environment has translated well to her role at Rebounderz, allowing her to use that knowledge to help develop new policies and procedures for the Rebounderz franchise.
---
Rae LaRoche – Director of Franchising
Rae LaRoche is the main point of contact for all franchisees. Rae loves to leverage her extensive business background to help others find personal satisfaction in growing a successful franchise. She is passionate about working alongside Rebounderz franchisees during their discovery process to assist each franchisee from the start and to aid to their long-term success with Rebounderz.
Rae has worked for Rebounderz Franchise and Development since 2009. She is an International Franchise Association (IFA) member providing her extensive franchise leverage in sales and marketing, as well as having a direct relationship with every Rebounderz franchisee.
Rae is very active as a community volunteer for Habitat for Humanity, Coalition for the Homeless, and the Women's Residential and Counseling Center, just to name a few. Rae is the mother of three and has been the foster parent for more than forty (40) children! Rae knows how to take care of people. Her passion for life and business makes her a perfect fit to help you join and excel in the Rebounderz Family!