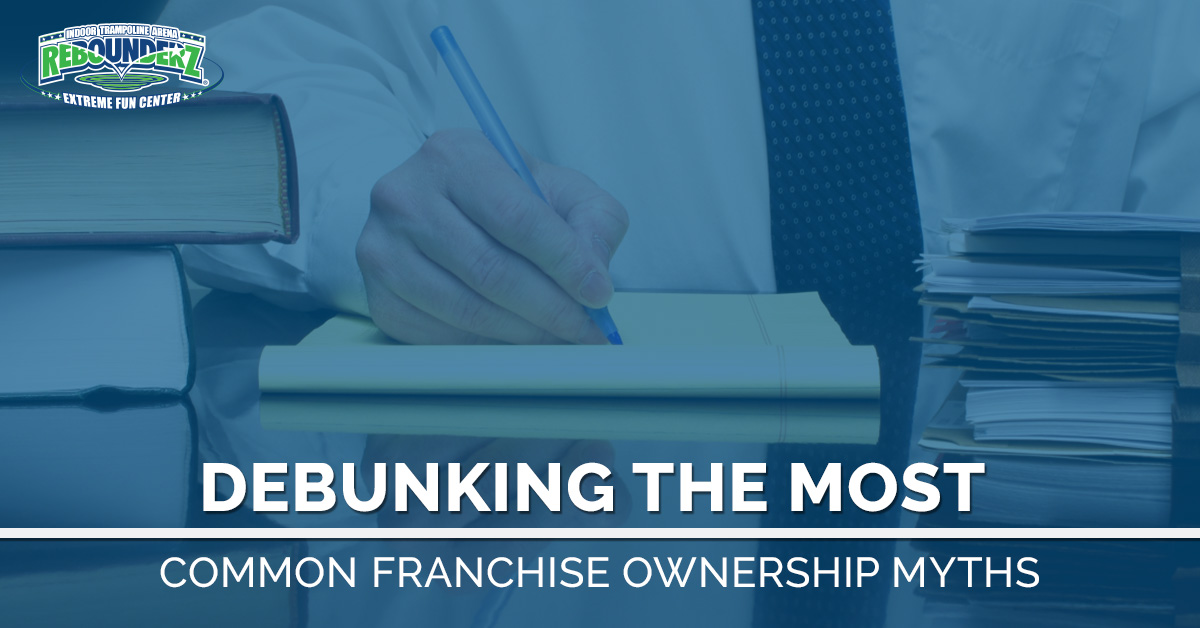 There's no question that the popularity of franchising continues to rise. Folks enjoy growing their own business and gaining financial independence. As you begin thinking of opening a franchise, chances are that you will be bombarded with information. While some may be true, there will definitely be some misconceptions you come across. In this blog post, we will look at some of the more common franchise ownership myths, as explained by Terry Powell of Entrepreneur.
!

You'll only be successful if you find the perfect business

– Very rarely will you come across that ideal franchise opportunity. Don't limit yourself, though. Keep in mind that, in the franchise world, plenty of skills transfer from the corporate world. Whether you've had experience in sales, management, marketing, or something completely different, rest assured that you can use those same skills in your new business.

You can only be successful doing something you absolutely love

– Powell mentions that businesses based on the owner's background have the highest failure rate. Just because you enjoy one thing, in particular, doesn't necessarily mean your franchise should be centered around that. As aforementioned in the previous point, limiting your choices typically spells disaster when purchasing a franchise.

You'll automatically know the right opportunity once you see it

– Our society thrives on the notion of 'love at first sight.' But this isn't the approach to take in terms of franchise ownership. Don't forget that the business you select is a career choice, not an emotional decision. Take all the time you need to learn about details of an opportunity. Weigh the pros and cons to fully understand the potential of a franchise.

You can't be in a business you know little about

– No matter what the business entails, the job of a franchise owner is to grow it and run it as efficiently as possible. Granted, you may feel the need to stay in your comfort zone and search for areas you're familiar with. However, some of the best opportunities are the ones you may have never previously considered. Plus, you have the freedom to hire people who know the details and can take care of the little things. Put your focus on buying into and learning the franchise system. Doing such puts you on the road to success.

You can't put a personal touch on anything

– This could be the biggest myth of the bunch. Believe it or not, there's plenty of room for individuality and doing things your way. Obviously, corporate has the framework in place for every franchise. From there, though, you essentially have a blank slate. Feel free to manage your business the way you like. That means you can be the one in charge of hiring staff, marketing your location, and promoting it accordingly.

You can't be creative at all

– This ties in a bit with the aforementioned myth. Sure, you don't have the freedom to change signage, uniforms, formulas, protocol, etc. But you can think of new ideas and make suggestions to corporate.

You can't afford a franchise

– There are plenty of affordable franchises out there. If you're hoping to own a franchise in the near future, you're in luck. Most can be established for well under $100,000 and some can be started for as little as $12,000. From there, the only payments to corporate are a one-time franchise fee and royalties depending on when they're collected. Out-of-pocket expenses consist of team salaries, local advertising, etc.

You'll have to quit your primary job

– Powell mentions that many franchise concepts are designed for those working other jobs. However you choose to approach your level of involvement, make sure that consistency is at the forefront.
The Value of a Family Entertainment Franchise
When it comes to family entertainment, family adventure, and extreme fun center attractions, no other franchise comes close to Rebounderz. The Rebounderz franchise is one of the fastest growing of its kind. We are actively looking for dedicated individuals who are interested in helping us grow. With our patented trampoline Combination & Dodgeball Jumpers, custom Ninja Warrior Courses, Basketball Slam, and other activities, Rebounderz is a no-brainer for folks looking to dive into the franchise world.
Rebounderz can help you achieve that dream of running your own successful franchise! Contact us today to get started.